2023
         Top Holiday Farm 2023 … Recommended by guests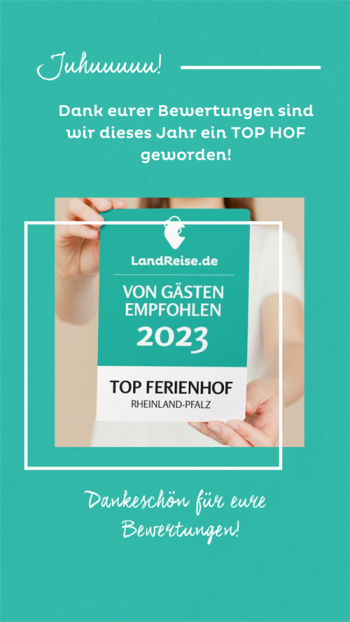 Our winery carries the award Top Holiday Farm 2023.

Vacation farms that have received more than 5 reviews with an average grade of 1.5 or better within a 12-month period carry the "Recommended by guests – Top vacation farm" award.

We have managed to collect many positive reviews in 2022 and are therefore allowed to carry the title "Top Holiday Farm 2023"!

You have spent your vacation with us and would also like to support us? Then simply give us a rating on www.landreise.de after your vacation:
Landreise – Ferienweingut Winnebeck
2022
         AWC-Awards in 2022
We are very proud that our winery has received several awards at the International Wine Challenge AWC in 2022.
2022
         VINUM-Awards in 2022
Every year, VINUM honors the best German Rieslings and their makers. The competition for the "Riesling Champion" thus aims to objectively document the current state of quality of German Riesling wines. We are very pleased that our wines were honored in this competition.
2022
         Köwericher Weinfrühling 2022 / Köwerich Wine Spring 2022, 27. – 29.05.2022
In 2020 and 2021, the Köwericher Weinfrühling was canceled for reasons known to all of us, but now we are happy to announce that we can finally look forward to the Weinfrühling again!

The creative ideas are currently brought together in the heads of the festival committee, the winegrowers and wine sovereigns, the representatives of the local associations and many voluntary supporters!

Therefore, this Köwericher Weinfrühling 2022 will be a very special one for all of us as well as for our guests and wine lovers. We will not reveal much yet, but be sure to mark the date in your calendar!

From 27 to 29 May 2022 feel invited to the Köwericher Weinfrühling where "Moselle meets Lake Constance".

We are looking forward to welcome you again!!!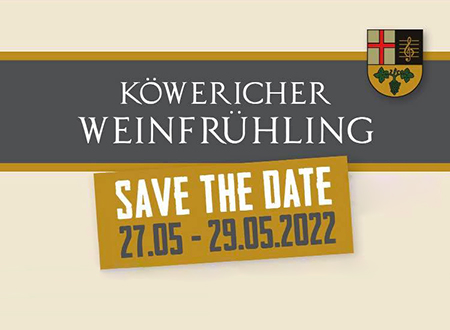 2022
         Top Holiday Farm 2022 … Recommended by guests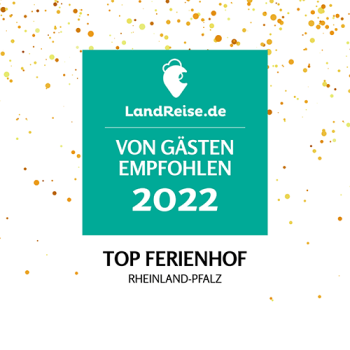 Our winery carries the award
Top Holiday Farm 2022
.
Vacation farms that have received more than 5 reviews with an average grade of 1.5 or better within a 12-month period carry the "Recommended by guests – Top vacation farm" award.
We have managed to collect many positive reviews in 2021 and are therefore allowed to carry the title "Top Holiday Farm 2022"!
You have spent your vacation with us and would also like to support us? Then simply give us a rating on www.landreise.de after your vacation:
Landreise – Ferienweingut Winnebeck
2022
         We are distilling…
… delicious pomace brandies and other delicacies for you. For more details see our page
"Distillery"
.
2022
          Awards in 2021
In 2021 our winery received several awards at the International Wine Challenge AWC Vienna.
… Jack Frost was kind to us. The "
ice-cold
" seduction suceeded.
After twelve years it was finally time again, the temperatures dropped low enough. Minus nine degrees gave us the opportunity to harvest our ice wine 2 days before Christmas 2021. Many thanks to our friends for supporting this event.
Now we just have to give it time to mature in our cellar before we bottle it in the summer.
Look forward to it!
It was a pleasure for us to support our Mosel Wine Queen Marie Jostock in the preparations for the election of the German Wine Queen.
Unfortunately, she did not reach the crown, but we have fond memories of the time. We have preserved some impressions for you.
As already in previous years, our winery has received again in 2019/2020 several awards for the tasting competition "Premium Selcect Wine Challenge".
Holiday winery Winnebeck – Karl-Heinz u. Elisabeth Winnebeck – Kapellenstraße 14 – 54340 Köwerich
Karl-Heinz u. Elisabeth Winnebeck
Fax: +49 (0)65 07 / 84 59